Getting Started on Fansly
The first step to getting started on Fansly is to create an account! You can create your account by going to https://fansly.com/.

We have a few different options to get you registered and logged into your account.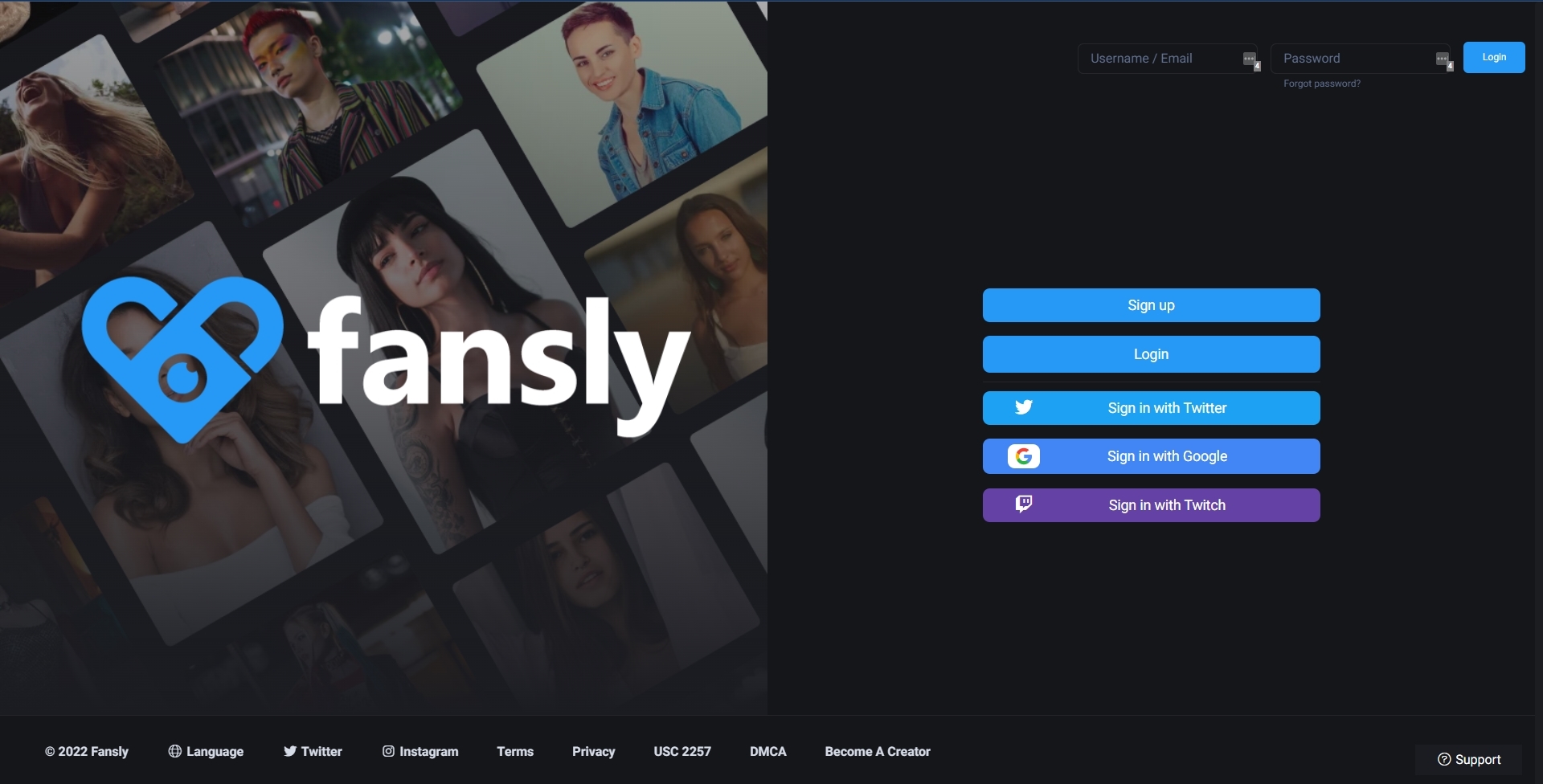 Clicking the standard "Sign up" button, will allow you to register by creating a username and password, but we also have the option of setting up your account by connecting through Twitter, Google, or Twitch.


Once you've signed up and created your account, you will be required to submit a creator application for us to verify your age and identity before you can share your content on Fansly. This is required, no matter what kind of content you intend to post, all users on Fansly must be 18+.

To access the creator application, once you've verified your email, you may click the profile picture on the top right of the screen. A drop-down menu will appear, and clicking "become a creator" will bring you to the application page.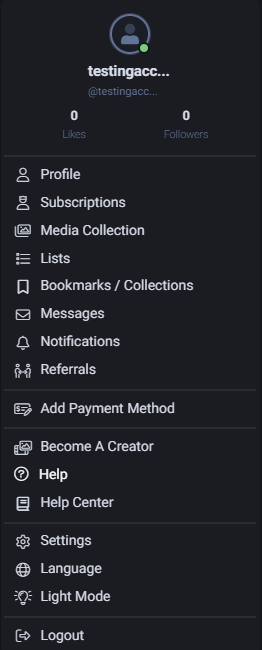 Please follow all the instructions given to you on the application. If there are any issues regarding your creator application, Fansly support will reach out to you. If you have any other questions, email support@fansly.com, and we'd be happy to assist.

If you intend to post content with another person, or multiple people, please reach out to our support team for information on how to verify additional persons in your content. All additional people in your content must be verified by one of two options.


1. The additional person may create their own account and submit a creator application. Once they're approved, kindly let us know the account name via email to partnerships@fansly.com, and you will be able to post with them.
2. Send us a model release form, a photo of their government-issued picture ID, and a selfie holding their ID and a piece of paper with their name, the current date, and "for Fansly" written on it via email to partnerships@fansly.com (same verification pictures as a creator application). A consent form can be provided if requested via email. We will respond to the email once received to confirm you can post together.
Customizing your Profile

Time to make your profile stand out! Once you're approved as a creator and ready to post content, you want to make sure your future followers and/or subscribers know who you are. You can customize your display name, profile photo, and header photo by clicking the blue "Profile" button on your profile page.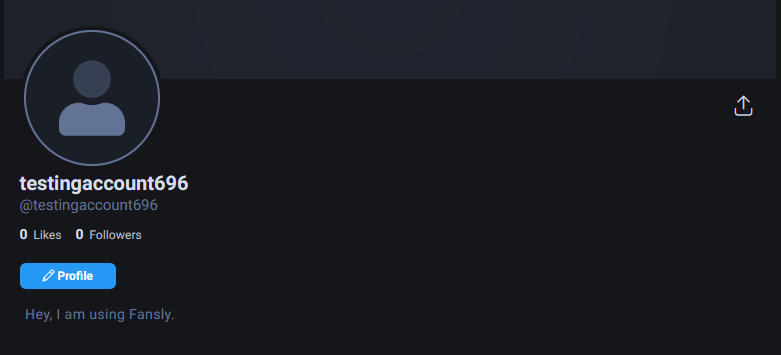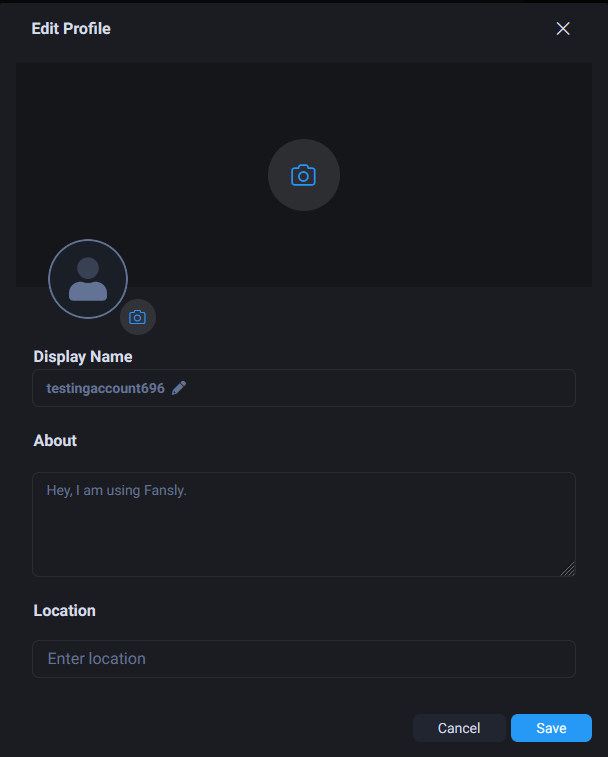 Please note that you can change your display name at any time here, but if you'd like to change your username, you'll need to email our support team (support@fansly.com) and let us know what you'd like to change it to. Please ensure you email us from the email address connected to your Fansly account, so we can verify your identity!

Setting up your Subscription tiers and customizing your timeline permissions

Fansly profiles are completely customizable when it comes to followers, subscribers, and who can or cannot see your content. You can adjust who can or cannot view your profile under Settings > Privacy & Safety > Timeline Permissions. By default, there are no permissions set, which means anybody can view your profile (this does not affect media permissions set on your posts).





You can add requirements that specify a user must be following before viewing your profile, or subscribed, tipped a certain amount etc. to your personal comfort level.

If you choose to have subscription tiers, you can set these up under Creator Dashboard > Plans/Promos, and by clicking "Create New Subscription Tier". When "create new subscription tier" is clicked upon, it will automatically appear in your subscription tiers. Click on "Edit Subscription Tier" to specify things like price, name, tier color, and benefits. You can add as many, or as few tiers, as you'd like.

On this same page, you may also choose to enable/disable the follow button. Some creators prefer not to allow free followers. On Fansly, following is always free and subscribing is always paid. If you choose to disable the follow button, please double-check that none of your permissions consist of "must be following".





Please ensure that if you already have pre-existing content on your page with media permissions specific to subscribers/subscription tiers, to update your media permissions accordingly.

Creating a Gift Link

Now that you've set up your subscription tiers, let's talk about how to run a sale, or offer a free trial to user(s). Scrolling down on that same Creator Dashboard > Plans/Promos page, you'll see a button "Create Gift Link", clicking this will prompt a window pop-up that lets you customize a discount or free trial for users you give the link to.
Pictured below is what the window looks like by default.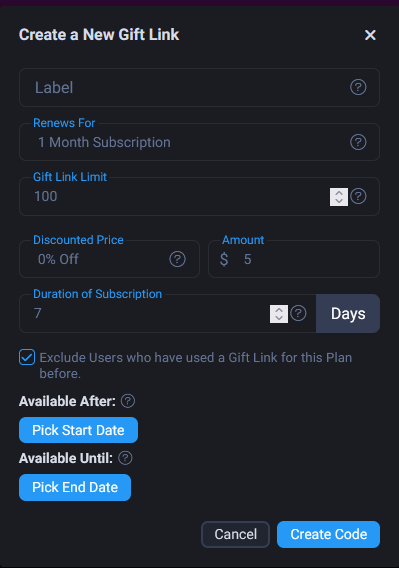 You can customize a title for this discount/trial at "label", which tier the subscription will renew for once the promo runs out, limit how many times the link can be claimed, the total discounted price, and the duration of the promotion.

If you do not intend to exclude users who have claimed a gift link for the specified tier in the past, please uncheck "Exclude Users who have used a Gift Link for this Plan before".

You can also specify how long you'd like the promotion to be available with the "Pick Start Date/Pick End Date" buttons at the bottom.

Once you've finished your customizations, you may click "Create Code", and you'll be given a URL to copy and promote at your pleasure.

Posting on Fansly

We've reached the most exciting part of your journey to becoming a Fansly content creator - creating your first post! Fansly offers many ways to customize posts to your preference, and your fan's preferences. To create your first post on Fansly, navigate to the Fansly home page (https://fansly.com/home)
Where to make a post on mobile devices (outlined in red):



Where to make a post on desktop devices.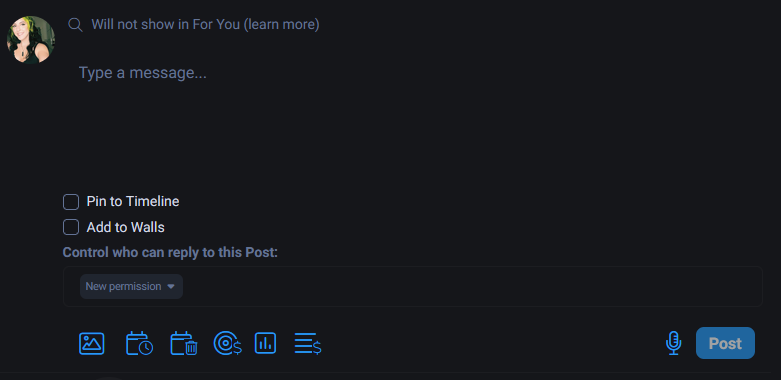 When you've decided you're ready to make your first post, you may notice there are many options available. We're going to go over them together, so you can utilize every feature to its maximum potential!

Buttons to choose from when creating a post




Pin to Timeline:
Checking this box will automatically pin the post to the top of your timeline

Add to Walls:
Checking this box will prompt a pop-up showing your existing (if applicable) wall albums. These can be used to publicly categorize your posted content. You can add a new wall album on this popup, and organize your content accordingly.

Control who can reply to this Post:
Set, or remove permissions, to control who can and cannot reply to your post. This does not affect who can see your media or your text post.

Going over the icons, from left to right!


Add Media:
This will allow you to upload media, either from your current device, or your vault. Your vault is a private (only you can see!) collection of previously uploaded media content. You can also organize your vault into Albums for your own personal organization. We'll go over media permissions a little later on!

Schedule(d) Posts:
Schedule posts, or see your already existing scheduled posts.
You can check your pre-existing scheduled posts, as well as edit and/or delete them by clicking the button shown here, outlined in red:



Set Post Expire Date:
This feature allows you to set an expiration date for the post. After the set date/time, the post will be deleted from your feed and no longer accessible.

Tip Goal:
Set up a designated tip goal, or select a premade one to attach to your post.
You can set a title, goal amount, and description. You can also choose to hide the tip goal amount.

Polls:
Polls! Ask for your fans' opinion on anything. Can't decide what set to post next? Set up a poll and ask for their opinion.

Locked text:
This will prompt a pop-up that will allow you to add text that you may not want all your fans to see. You can use this to put text behind a paywall, just like pictures and videos. This will have the same set-up as media permissions, which we will go over next!

Record voice:
Record directly from your microphone to attach to your post. This will save to your vault like your other media uploads, or you can select pre-recorded audio from your device to upload the same way you upload photos/videos.

Uploading Media/Media Permissions

Circling back to when we upload media, let's talk about adding permissions to unlock, free previews, and permission presets.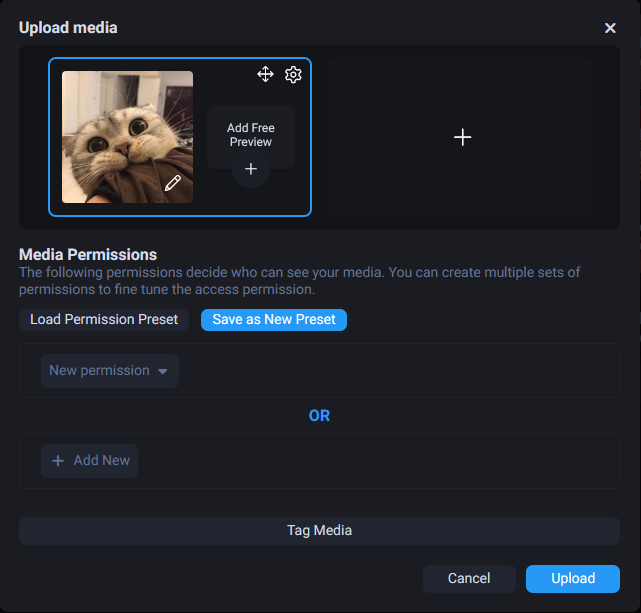 Once you upload media to your post, you will get this pop-up box. You can see here that we have "media permissions", and boxes to click on, that when prompted, give you multiple options.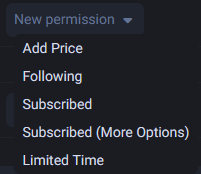 Add Price:
Add a price requirement to unlock the attached media.

Following:
All users who are following can unlock the attached media.

Subscribed:
A user must be subscribed to unlock the attached media. You can specify for all tiers, or select specific subscription tiers. Is this a special video only for your VIP subs? Select only your VIP tier in the permissions.

Subscribed (More Options):
Choose a timeframe in which a fan must have been subscribed to unlock the media. More features coming here soon!

Limited time:
Set a time frame for when this media will be available.

You can add multiple of these permissions at a time. For example, you can have one requirement to be "Must be following + pay $10 to unlock". That permission would look like this: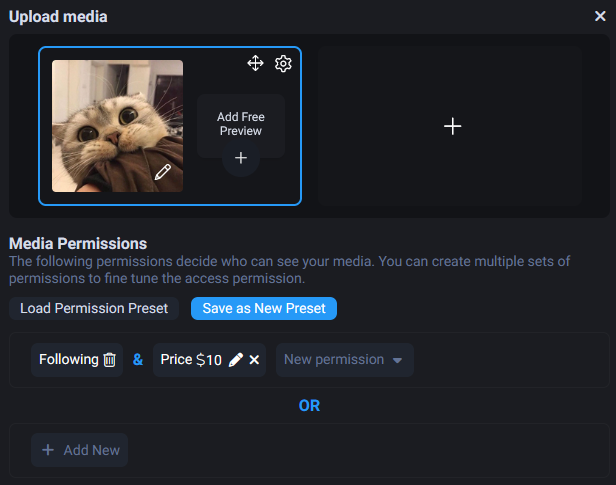 You can add additional ways to unlock the media as well. Underneath, where it says "or", you can see that you can add more permissions that are separate from the first set. For example, you could allow subscribers to pay less to unlock the media. That would look something like this: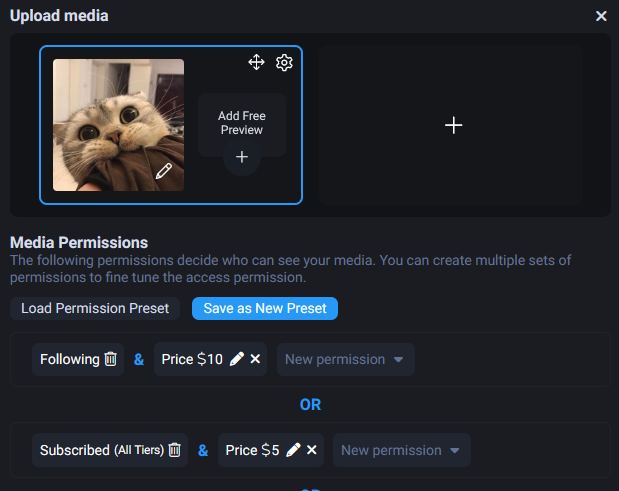 These permissions would allow 2 different ways a fan could unlock this media.
1. A fan who is following you may pay $10
OR
2. A fan who is subscribed to you may pay $5

You can customize this entirely to your liking, this is just an example of how you could set them up!

Adding previews to your media

Sometimes we want our fans to know what they can expect if they unlock a set, but without giving the content away for free. This is where "Add Free Preview" (outlined in red) comes in handy!




Upon clicking the plus sign under "add free preview", you'll have three options to choose from. You can either clone the existing picture, and that will prompt a photo editor to pop up where you can add emoji stickers, or text. Or you can upload a new picture that's stored on the device you're currently using, or choose a pre-existing piece of media from your vault.
Your set preview will be able to be viewed by anyone who has access to your timeline.


Tagging your media




Tagging your media (outlined in red) helps the algorithm detect what kind of content you make. This ensures you are recommended to other Fansly users who engage in similar content to yours, whether that's through the Suggestions tab, or the For You page.


Mass Messages/PPV Messages

One of the best ways to interact with fans and send content, is through your messages. You can access your message inbox by navigating to the toolbar on the top-right side of the page (on desktop) and clicking the envelope (outlined in red). On mobile devices, you can find the message button in the center of the bottom toolbar of your preferred mobile web browser.



You can find the button to set up a mass message above your list of past conversations, to the right of the "Messages" title. Example shown below, outlined in red.



Once clicked, you'll have a window pop up that allows you to do one of two things; either send a single direct message to a specific user or send a mass message. In this example, we'll be clicking the "New Mass Message" tab.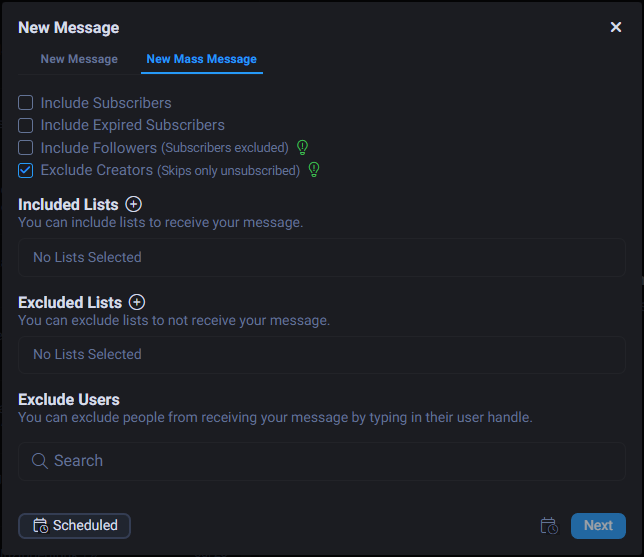 On this window, you can fully customize who you do, or do not, want to receive your mass message. You can also set up a scheduled mass message, just like a scheduled post, by clicking the "scheduled" button on the bottom left of this window.

Once you've customized who is receiving the mass message, you can click "next" and it will bring you to the same kind of window we saw earlier when creating a post on your feed. All the same features and rules apply here (and in messages to individuals) when adding your media!

If you ever wish to delete and/or check the stats of your mass messages, you can find the option to do so under your Creator Dashboard > Messages > Broadcast Message Stats.

-

We hope you've enjoyed this Getting Started guide to using Fansly! We love our creators, and we're so excited to have you on board with us.
If you have any other questions about a feature, or if there's something you need assistance with that's not in this guide, please reach out to our support team! You can reach them by emailing here: support@fansly.com